**Hot tubs are under construction and coming soon. Prices adjusted accordingly.**






WHAT BASEGLAMP® PROVIDES & YOUR PACKING LIST
Fully Insulated
Bay & Sky Windows
Full Curtains for Privacy
Wood Stove
Solar Fan
Locking Door
Parking Space
Bath/Hot Tub Towels
Memory Foam Mattress
Luxury Linens & Blankets
Pillows
Bathroom Amenities
Shampoo, Conditioner, & Body Wash
Walk-in Shower
Flushing Toilet & Paper
Vanity Mirror
Small Kitchenette
Heated Floor (Select Domes)
Castiron Pan
BBQ Utensils
French Press
Hot Water Kettle
Sets Plates & Flatware
Bowls
Mugs/Glasses
Wine, Bottle, & Can Openers
Cutting Board
Salt & Pepper
Dish Soap
Dustpan & Brush
Trash Bin
Recycle Bin
Water
CO2 Monitor
Fire Alarm
Fire Exit
Private Deck (Select Domes)
Private Seating
Hot Tub (Select Domes)
**Hot tubs are under construction and coming soon. Prices adjusted accordingly.**
Fully Insulated
Bay & Sky Windows
Full Curtains for Privacy
Wood Stove
Solar Fan
Locking Door
Parking Space
Heated Floor (Select Domes)
Memory Foam Mattress
Luxury Linens & Blankets
Pillows
Bathroom Amenities
Shampoo & Conditioner
Body Wash
Bath Towels
Walk-in Shower
Flushing Toilet & Paper
Vanity Mirror
Small Kitchenette
Coffee & Tea
Castiron Pan
BBQ Utensils
French Press
Hot Water Kettle
Plates & Flatware
Bowls
Mugs/Glasses
Wine, Bottle, & Can Openers
Cutting Board
Salt & Pepper
Dish Soap
Dustpan & Brush
Trash Bin
Recycle Bin
Water
CO2 Monitor
Fire Alarm
Fire Exit
Private Deck (Select Domes)
Private Seating
Hot Tub (Select Domes)
Fire Pit 
**Hot tubs are under construction and coming soon. Prices adjusted accordingly.**
At BaseGlamp®, we aim to take the significant fuss out of your outdoor adventure and we take vacation rentals to a whole new level. Just show up and relax! There may be a few things you'll want to bring with you, though, so see our list for some of our recommendations.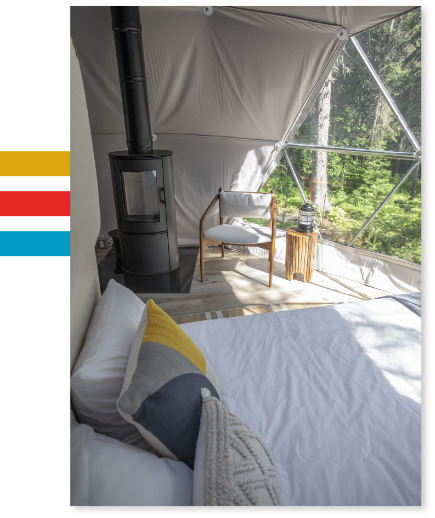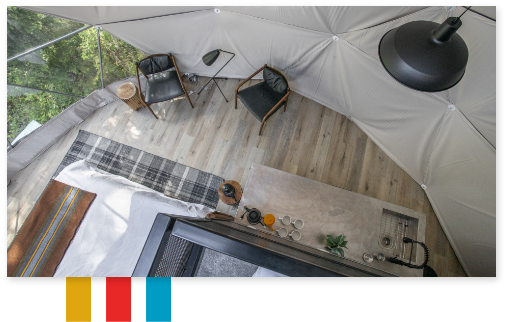 Essentials:
We recommend layers as the weather in Montana
can change frequently no matter what season.
BEAR SPRAY
Sunscreen for summer & winter
Pajamas
Warm socks
Swimsuit
Warm & cold weather hats
Sunglasses
Headlamp or flashlight
Good shoes for hiking
A backpack for all your adventure gear
Toothpaste
Bug spray
Books or iPad
Games & Deck of Cards
Cooking:
You'll want to bring food and various ingredients for your meals if you plan on cooking! Remember this is bear country! Food will need to be stored in your locked car or in our barn. 
Each dome will have a mini-fridge for drinks, access to an outdoor solo stove fire pit*, and outdoor cooking options.
*Fire season dependent
We provide guests with a set of dishes, utensils, and salt and pepper seasoning.